Best Practices on Skin Care for Babies
By Dr. Latanya T. Benjamin, M.D.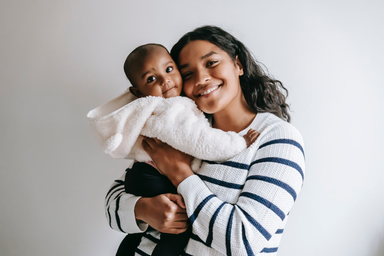 As a Board-certified Pediatric Dermatologist, I am frequently asked the top recommended ways to care for a baby's skin. This is absolutely one of my favorite questions to answer, especially with September being Baby Safety Month! Caring for baby skin requires incredibly gentle care, while their skin is maturing. Most people do not know that there are developmental and structural changes that occur within the skin as a baby grows. It takes anywhere from 1 to 4 years for a newborn baby's skin to fully develop after birth. During this time, it is especially important to choose the safest and most gentle products formulated for babies. Let's take a deeper dive and uncover the leading recommendations on how to best care for your baby's skin.
Bathing
Bathing requires the use of a gentle body wash along with tepid water. You never want to accidentally burn the skin of a young baby during bath time from the faucet water. You want to first check with parts of your body that are more sensitive to heat, such as your inner wrist or elbow. It's also important not to keep babies in the bath for very long. Usually a 3-to-5-minute bath is sufficient in most cases. Young babies are particularly at risk for hypothermia (or low temperatures) if left in water for too long. An additional best practice is to avoid harsh soaps due to their alkaline pH, which wreaks havoc on the skin. An overall great gentle bath wash that meets those needs is the Baby Dove Sensitive Moisture Tip-to-Toe Fragrance-Free Wash!
Moisturization
Moisturization is extremely important to replenish lost water and natural oils needed by our skin during the bathing process. I recommend that following a short bath, apply a gentle moisturizer that contains safe ingredients. Ingredients to avoid in your baby's moisturizer include: parabens, fragrances, dyes, lanolin, formaldehyde, and other sensitizing agents. If your baby has sensitive or eczema prone skin, reach for a cream or ointment-based moisturizer over a lotion. This skin type will likely require more support. My absolute favorite is Vaseline Original Unscented Petroleum Jelly. It comes in a large size that is affordable.
Diaper Care
The diaper region is a very tricky area to care for as nearly any healthy baby skin can develop a diaper rash. This region often has prolonged contact time to urine and feces that is harsh on newborn skin. The contact on the immature skin from these harsh elements will change the local pH and result in the possible breakdown of the skin, leading to the beginning of a diaper rash (appearing as pink to bright red skin). To minimize the risk of this, the first, and most important step is to do frequent diaper changes throughout the day and night. As any parent or caregiver knows this could be a difficult feat. Diapers with a wetness indicator strip can be very helpful here. This will prompt parents and caregivers to quickly change a wet diaper and avoid prolonged irritation of the skin. If a diaper rash is severe, I often recommend temporarily discontinuing diaper wipes and switching to a soft cotton swab with water to gently cleanse the area when needed. After that step, applying a barrier cream is a must! If you see small red bumps (especially those with white pus-filled tops), scaling, peeling, raw broken, or swollen skin, it's time to visit your baby's pediatrician or pediatric dermatologist. If that arises, your baby's diaper rash could have potential complications, such as a yeast infection, and require prescription medications as a cure.
Eczema/Sensitive Skin
For babies with sensitive, allergic prone skin, I recommend products with the base ingredient of petroleum which helps provide the occlusion and reinforcement for a proper skin barrier function. My absolute favorite is Vaseline Healing Jelly Baby, which is triple-purified and helpful for protecting chafed red skin. It is my favorite because it is also hypo-allergenic and contains no irritants. The Vaseline mini travel size or Healing Jelly Stick are great for travel and for to-go the diaper bag. Waterproofing your baby's skin with the best occlusive agent out there is also easy to do as you can find them at your local drug store or online.