Eczema Triggers and Treatments
By Dr. Uchenna R. Okereke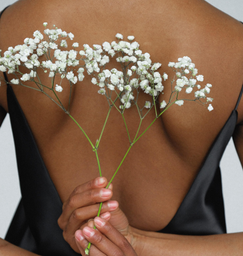 Most of us either know someone with eczema, but what is it? What makes it worse? And how can it be managed?
Atopic dermatitis (AD) or more commonly known as Eczema, is a skin condition that results from disruption of the skin barrier, allowing water to leave the skin and allergens to penetrate. This can lead to chronically inflamed, dry, scaly skin and in more severe cases, skin that crusts, cracks, and/or bleeds. In addition, those with eczema commonly have an imbalance of normal bacteria on their skin, which can lead to over-proliferation of staph bacteria, increasing the risk of infection.
There are several factors that can trigger eczema flares. For some people, the dry, indoor air during winter can ignite a flare. For others, the effects of warmer weather such as sweating, outdoor allergens, and increased sun exposure can provoke episodes of itching, rashes, and discomfort to the skin. Fragrances, drying alcohols, harsh chemicals and rough fabrics are other examples of triggers.
The impact of dealing with eczema on the quality of life can be quite significant, not only for the patient, but also for the caretaker, and the healthcare system. According to the National Eczema Association, when compared to those without eczema or atopic dermatitis (AD), people with AD have increased healthcare utilization (or the use and measurement of services by healthcare professionals to ensure appropriate care). That includes more outpatient doctor visits, more visits to urgent/emergency care, and more hospitalizations.
Navigating treatment and management of eczema can feel daunting, but if one's routine centers on these 4 principles, I have found that patients are better equipped in keeping eczema flares to a minimum.
1. Seek treatment from a board-certified dermatologist
Working with a dermatologist will confirm the diagnosis (there are rashes that are eczema mimickers) and help determine whether your eczema can be managed with creams and behavioral modification, or whether a combination approach prescribed by your physician that could include oral medication, light treatment, or biologic injectables are more appropriate for you. You can use the Vaseline x Hued Find A Dermatologist tool to find the right dermatologist for you.
2. Find (and avoid) your triggers
This tip challenges one to think outside of the box when considering potential triggers for eczema. Food allergies are often associated with eczema and its flares. While studies have shown this to be true in 5% of cases, the other 95% are attributed to one, or several, of the triggers outlined above. Be sure to avoid doing things that exacerbate dry skin, such as applying alcohols, hydrogen peroxide, or other harsh chemicals. While avoidance of triggers is unlikely to cure eczema, it can help minimize flare-ups.
3. Baths provide hydration for dry, parched skin
If limited to less than 10 minutes, baths are actually hydrating for dry, eczema-prone skin. Bathing adds water to the skin, and moisturizing immediately after bathing locks in that moisture.
4. Thick moisturizers are your friend
A lesser-known fact is lotions have a higher water content than creams and ointments, which can lead to drying of the skin. For this reason, I recommend thick, rich moisturizers with hydrating ingredients, such as shea butter, due to their thicker water-in oil formulation. This is why I love Vaseline's NEW Intensive Care Sensitive Skin Relief Lotion. Co-created with dermatologists, this formula uses colloidal oatmeal and ultra-hydrating lipids to provide long-lasting and soothing moisture – 88% more moisture compared to untreated skin – from the first use. As part of the full newly reformulated Intensive Care lotion collection redeveloped to prevent dryness and provide skin with 48 hours of moisturization, each dermatologist tested formula contains a special blend of humectants to draw water into the skin, including ultra-hydrating lipids, and micro-droplets of Vaseline® Original Healing Jelly to combat dry skin and provide up to 90% more moisture.
Now you are equipped with the knowledge on eczema triggers, how to avoid them, and recommendations for treatment and management. You are officially ready to face the winter season!