Eye Health: Contact Lens Safety
By Cheyenne Tyler Jacobs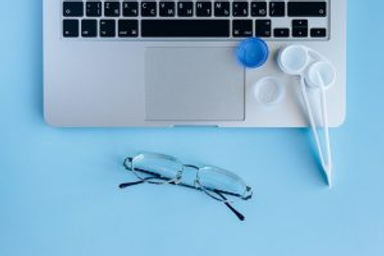 Contact lenses are an alternative to traditional glasses that is less invasive than correction surgery. Studies estimate about 45 million people in the US wear contact lenses, and two-thirds of those are women. Contact lenses are a great alternative for those needing to improve their vision for physical activities and sports. Research also shows that contact lenses can help boost self-esteem in teens and children.
However, contact lenses can lead to eye infections and blindness when care protocols are not followed. According to research, 40%-90% of contact wearers do not continuously pursue cleaning and care instructions. Proper care included disinfecting lenses, changing pairs in the designated time frame, adequate remoisturizing, and wear time. Below are recommendations from the American Academy of Ophthalmology on how to properly care for your contact lenses.
Properly care for Lenses:
Keep appointments with your doctor to ensure your contact prescription is accurate and your eyes are not experiencing an infection.
Do not wash contact lenses in water or put contact lenses in mouth to use saliva to wet.
If your eye becomes red and itchy it may be a sign that contacts are old and getting worn and you should speak to a doctor.
Keep contact lenses case clean by rinsing with contact solution and leave it open to dry. Be sure to also replace your case every 3 months.
Eye health is important and it essential to ensure your contact lenses are not causing your eyes any pain. Remember to speak to a doctor about how to wear your contacts and followup if you are experiencing any pain or discomfort.
Site content is provided for informational purposes only and is not intended to be a substitute for professional medical advice, diagnosis, or treatment