Five Signs That It's Time To Find a New Doctor
By Jada Vanderpool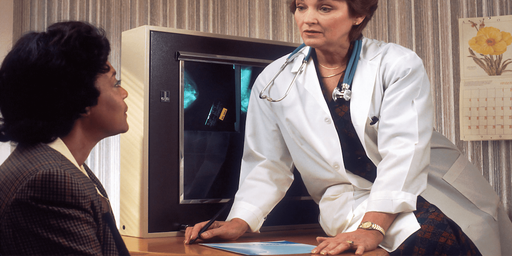 Our doctors may not be our best friends, but when it comes to our bodies they should be pretty close. Beyond our routine check-ups, we want to be able to tell them what's going on with us, and have a healthy dialogue on how we can feel better. But if you're feeling like you doctor experience is more like deciphering a work project with a trivial coworker, it may be time to consider finding a new doctor. Here's some signs that it's time to seek your medical advice elsewhere.
Your Doctor is Never Available
When you're not feeling your best, the first thing you want to do is seek help from a trusted doctor. Yet if you're having trouble scheduling appointments within a reasonable timeframe to address your needs, it may be a sign that your doctor is overstretched. While you can ask for a referral to visit your doctor in the interim, if you're consistently being referred to someone else consider switching over to that doctor that's available for you.
You Feel Like You Aren't Being Heard
It's imperative that your doctor takes the time to understand your concerns and provide you with substantial solutions on how to address them. If you're coming into the doctor's office with a list of symptoms, and your doctor is still assessing your medical chart versus your live answers – this isn't a good sign. We know that doctors are juggling multiple patients and have professional expertise, but this doesn't mean your needs should be overlooked. Your doctor should not be dismissing your concerns as "nothing serious" and giving you a Band-Aid remedy. If you know something in your body doesn't feel right and have expressed this, your doctor should take steps to help you feel comfortable. If they don't have the answers, they should be coordinating with other specialists who can further identify your issues and needs.
You Feel Like You're Being Judged
Our doctors are our body confidant's, and you should feel comfortable telling them what's going on with your personal health. If there's a change in your sexual active life, or you want to look into birth control/reproductive options, your doctor should be listening and offering medical advice. It is not your doctor's job to be condescending about your choices. Your patient-doctor conversations should be respectful and include informative responses. If we can't be honest with them out of fear from their response, then we're less likely to share information with them.
Your Doctor Doesn't Educate You
Have you ever walked into a doctor's office unclear about your symptoms, and left the office with a treatment – but still unclear about our issue and next steps? While we can lean on Google search to answer some of our questions, our doctors can explain to us why they're prescribing certain medications, the affect it will have on our bodies and other treatment options. Your doctor should also be open to answering any questions you may have.
You Don't Feel Any Better
If you're experiencing chronic symptoms of any sort, your doctor should be working with you to find solutions to remedy them. If they are and their approach still isn't working, consider going to another doctor for another opinion. Ultimately, we may understand the intricacies of our body and minds more than anyone else. If you feel like you can benefit from hearing someone else's advice, then do what makes you most comfortable.