Our Pronouns Matter: Facilitating Gender Affirming Care
Pride Month
By Cheyenne Tyler Jacobs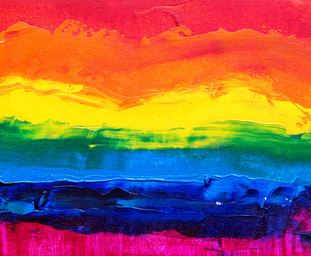 In recent years there has been more attention on how we communicate with those around us, and one of those conversations centers around pronouns. According to the NYC Department of Social Services, gender pronoun "is the pronoun that a person chooses to use for themselves; they are the pronouns that we use to refer to people in sentences and conversation." Sex Educator Ericka Hart notes in her teachings that pronouns are not preferred, implying it is something outside of a lived experience. In healthcare, providers must create an environment that leads to open communication and support their patient's identities.
When starting to advocate and open the door for a positive conversation on gender identity, it is essential to understand the difference between sex and gender. Below is an infographic created by bu the Quinnipiac Chronicle, which gives a breakdown of sex, gender, and sexuality:
Quinnipiac Chronicle
When it comes to appointments and exams, be aware although someone may identify as biologically male or female due societies naming of hormones and reproductive organs. However, that does not mean that they identify with our society's construct of what "girl or boy" and "male or female" is, and many people do not take any gender and are non-binary.
Non-binary gender is defined as According to a Pew Research study, roughly three-quarters of Americans ages 18 to 29 say they have heard between a little or a lot about people preferring nonbinary pronouns.
The National Center for Transgender Equality explains Non-binary in this way:
"Societies – like ours – tend to recognize just two genders, male and female. The idea that there are only two genders is sometimes called a "gender binary" because binary means "having two parts" (male and female). Therefore, "non-binary" is one term people use to describe genders that don't fall into one of these two categories, male or female."
It is crucial for individuals accessing healthcare that are non-binary, genderqueer, or LGBTQA+ that medical appointments are safe. Many people within the LGBTQA+ community have openly talked about not feeling heard at their appointments due to their identity. The Center for American Progress (CAP) surveyed the discrimination the LGBTA+ community faces when doing healthcare and found the following:
8 percent said that a doctor or other health care provider refused to see them because of their actual or perceived sexual orientation.
6 percent said that a doctor or other health care provider refused to give them health care related to their actual or perceived sexual orientation.
7 percent said that a doctor or other health care provider refused to recognize their family, including a child or a same-sex spouse or partner.
So let's talk gender affirming care which is defined as "a range of social, psychological, behavioral, and medical interventions designed to support and affirm an individual's gender identity when it conflicts with the gender they were assigned at birth" by the World Health Organization. One change that can be implemented today is being intentional with how you welcome your patients into the office. Below are ways to be intentional about LGBTA+ safety in healthcare and how to give more gender-affirming care.
Let's Be Inclusive:
Asking for pronouns on medical forms and in-person. Also, do not be afraid to provide your pronouns. This is a great way to establish an open and safe line of communication.
Removing ma'am or sir from vocabulary when meeting with patients for the first time. Instead, let them give you the language of how they would like to be greeted.
Not asking invasive questions regarding sexual orientation.
Recognizing family and parents when the patient is discussing them in an appointment.
When misgendering, apologize at the moment and be sure to do better throughout the appointment and the next one.
Keeping your patients safe is a top priority in healthcare, and that starts from the first hello. This is your sign not to ignore the discrimination that the LGBTQA+ community is going through but becoming a space of comfort and vulnerability. Everyone deserves access to healthcare, and everyone deserves to be seen within their identity.
Site content is provided for informational purposes only and is not intended to be a substitute for professional medical advice, diagnosis, or treatment.