Roe vs. Wade Was Overturned and What to Do Next
By Cheyenne Tyler Jacobs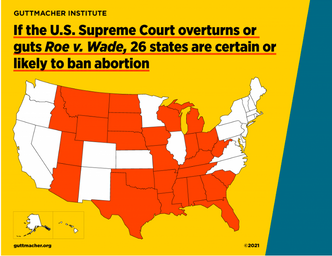 On June 24, 2022, the Supreme Court released its decision to overturn the federal protection of Roe v. Wade and allow states to set individual precedents. States have already set up trigger laws that immediately impact abortion accessibility for conditions, such as Arkansas and Louisiana. Centers and clinics had to cancel future appointments, which had significant emotional and mental effects on those working at clinics and patients.
Over the past few days, we have seen an outpour of political leaders, businesses, celebrities, and medical professionals sharing how this decision attacks healthcare. Below is an image to illustrate the 26 states that are certain or likely to have an abortion ban according to the Guttmacher Institute: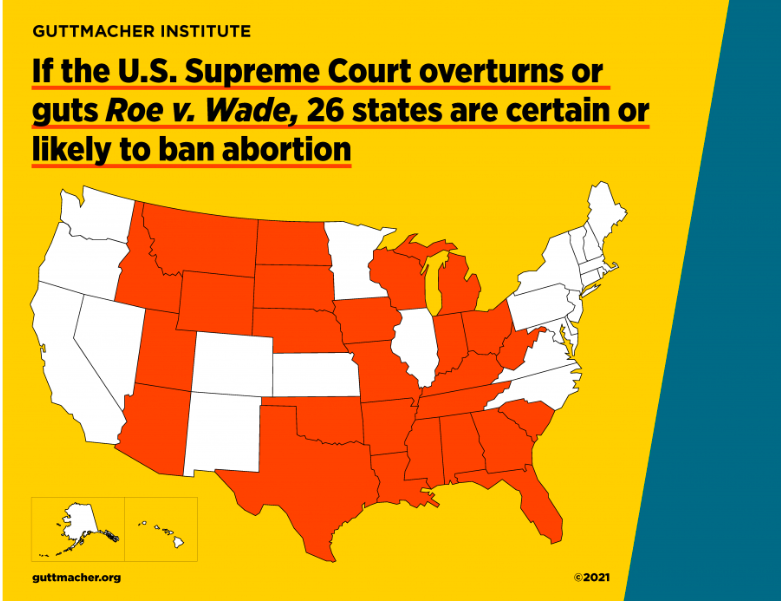 These bans include: • Trigger bans • 6-week bans • 8-week bans • Near-total bans
Many states plan not to give exceptions for sexual assault, incest, miscarriage, and ectopic pregnancy, which will lead to trauma and death. States leaning towards a near-total ban are even looking to take legal action against anyone who gets an abortion and those that assist (i.e., driving someone to the clinic). This decision attacks healthcare and will further create health disparities for marginalized Black, Latinx, and Indigenous individuals. Especially when the Supreme Court is looking to overturn laws that give access to contraceptives such as IUDs and Plan B.
Organizations such as Planned Parenthood, Plan C, and the Digital Defense Fund ensure we have the necessary information to access abortions and stay undetected by law enforcement. Below is an infographic that includes tips on how to keep hidden when looking for an abortion.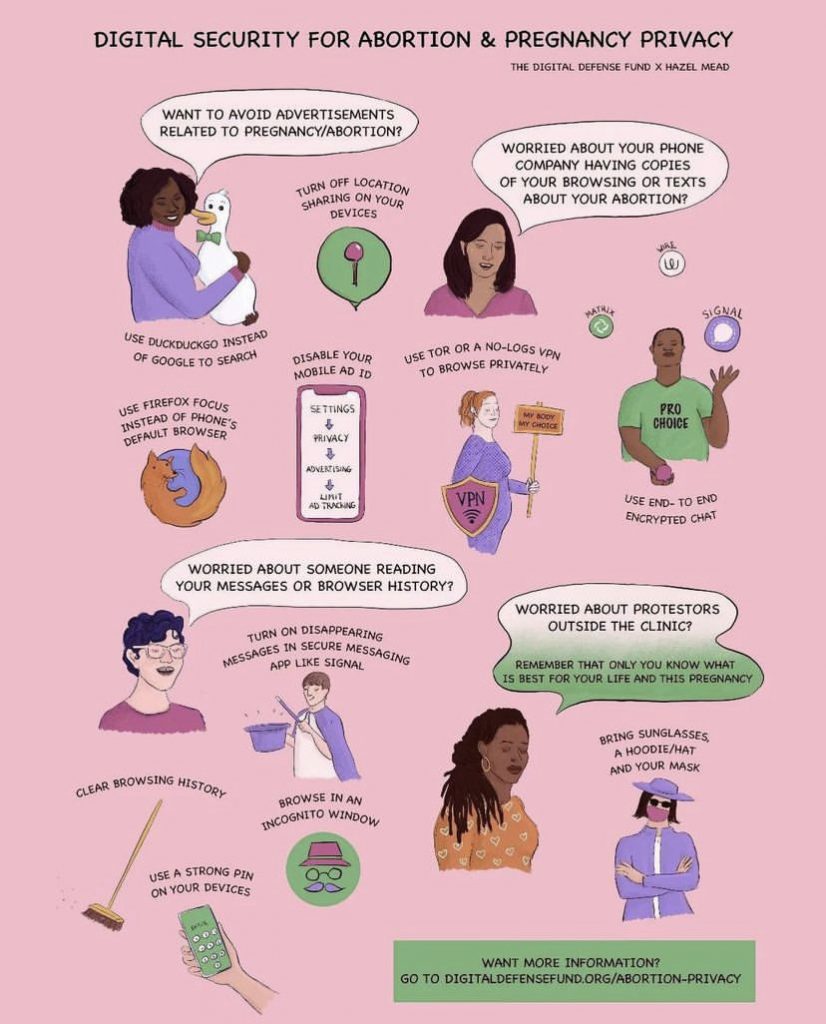 These tips include: • Turning off location • Deleting period tracking apps • Clearing browser history • Use Firefox focus instead of the default browser
For those looking to have a better understanding of their state's new abortion laws and to access and donate to clinics, follow the links below: • PlannedParenthood.org: Understand access in your state • AbortionFunds.org: Donate to abortion funds • KeepOurClinics.org: Independent Support Clinics • PlanCPills.org: Learn more and buy Abortion Pills • Plan B: Learn more at Planned Parenthood
For decades we have been able to access abortions and contraceptives, and now the rights of millions are being taken. The following steps are to learn what is happening in your state, share as much information as possible, and vote. During this time, it is also important to rest and recenter as this decision can be overwhelming and disheartening for many.
Site content is provided for informational purposes only and is not intended as a substitute for professional medical advice, diagnosis, or treatment.