Slugging
By Dr. Hope Mitchell, MD, FAAD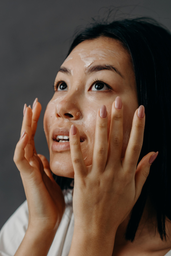 Slugging has people coating their skin with grease, which now has an official name!
So what exactly is slugging?
Slugging refers to sealing your skin with an occlusive ointment like petrolatum (found in Vaseline) to aid in hydration, healing, and strengthening of the skin. Although this treatment can be done on any part of the body, the entire face, or selected areas, the lips are commonly treated areas. Dermatologists have been using this beauty hack to lock in moisture and quickly heal dry skin for many years and now this beauty tip has a formal name - slugging!
Recently, slugging has gained increased popularity on social media, which may be partly seasonal-based. Almost everyone looks for safe beauty tips to aid in healing dry and sometimes chafed skin during the cooler and dry winter months. Petrolatum, the ingredient that is most commonly used and found in Vaseline, is non-comedogenic, meaning it does not clog pores and is less likely to cause allergic reactions making this an option that many are comfortable trying. I also believe people are now slugging all year round because slugging can be a safe treatment and is dermatologist approved! That's right we approve of slugging to achieve hydrated and healthy skin.
Slugging works by cleansing and then moisturizing with a product containing hyaluronic acid, ceramides, and glycerin, which will work in tandem to lock moisture into a protected skin barrier. Seal the moisturizer in with a thin layer of an occlusive ointment like Vaseline or apply Vaseline directly to clean skin. You may apply the occlusive ointment all over the face or spot treat your drier areas. You can continue this process on the body, (i.e. moisturization of the legs and spot treat the knees and ankles).
Wait about 30 minutes to allow product absorption and then, go to bed!
The occlusion of the skin with the ointment places a protective-like coating on the surface of the skin which aids in locking moisture into the skin. The benefits may be even greater for those who add their favorite moisturizer first. Lips tend to be thin and prone to irritation. Slugging can be a way to proactively minimize or treat dry or cracked lips. You can also consider slugging for those bothersome dark and dry elbows, knees and ankles.
Slugging may not be suitable for all skin types. Acne and oily skin types may be at risk for breakouts or worsening acne. Skip slugging if you have an infection or open sores. When slugging, avoid using AHAs, BHAs or retinoids beneath the occlusive product to avoid chemical burn since locking these ingredients may increase its strength and concentration.
Slugging, however, may be a great way for people with sensitive skin to heal and protect their skin. Of course, most people with normal to dry skin types love the layers. Black people have been slugging for many generations long before it became popular and was given a name, so yes, it is suitable!