The Crisis of Black Maternal Mortality
Black Maternal Health Week
By Cheyenne Tyler Jacobs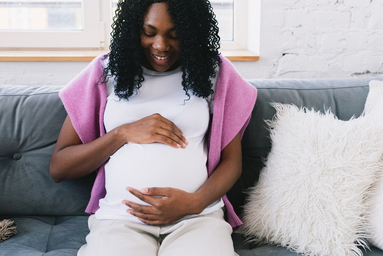 Birth is marked by society as a life-changing moment that is supposed to be a time of joy, celebration, and community for those wanting children. Unfortunately, these moments that are supposed to be a journey of understanding and changing for birthing individuals can quickly turn to trauma and death for Black Women. According to research Black Women are 3.5 times more likely to experience than White and non-Hispanic women regardless of socio-economical status.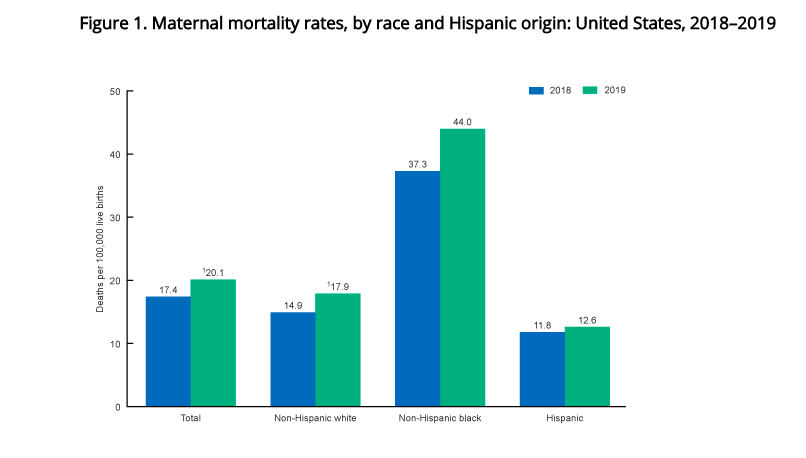 Source: National Center for Health Statistics, National Vital Statistics System, Mortality.
Regardless of the status of Black Women, the chances of dying due to childbirth are the same. Black women are also more likely to experience other health complications during delivery, leading to more severe problems. Black women experience eclampsia and preeclampsia and postpartum cardiomyopathy with rates five times those for non-Hispanic White women. Obstetric embolism and obstetric hemorrhage were also 2.3 to 2.6 times those for non-Hispanic White women.
These numbers are scary, but they illustrate the continuous health disparities many Black Women face. Black birthing women's mortality does not start during labor but before our bodies even conceive. The narratives that say "Black Women are Strong" pour over into our health, and our pain and medical concerns are not regarded with respect.
The racial bias that Black Women deal with in our life also causes us stress which during pregnancy can be heightened and result in cardiovascular illnesses. Bias, with any other existing health issues, Bias can create more health concerns, especially if previous conditions were not adequately addressed.
The mortality of Black Women birthers does not have to be this high. According to thirteen state maternal mortality review committees, 60% of pregnancy-related deaths were preventable, regardless of race and ethnicity. Research has found that causes of death among Black women might reflect differences in accessibility to care, quality of that care, and chronic diseases. Although this research is relatively available, we still are missing the mark. A 2019 study found that the mortality rate continued to increase.
Does the question then become how we can ensure the safety and quality of care for Black Women birthers? First, understand that this is hugely a systematic form of oppression, but there are ways to support a healthy birthing experience on an individualized level.
Black Women Birthers Support:
Understanding that medical intervention is needed in some cases but not all, you are entitled to a medical or holistic approach to your birth.
Consider a doula or midwife for your pregnancy journey.
Seek counseling during pregnancy concerns may require a mental health professional's intervention.
Create a safety plan and birth plan with your support team.
Ask questions about your pregnancy with your doctor and take notes if you cannot seek a support system member.
Look over your insurance information or state hospital charity care and see your benefits and qualifications.
Even if children are something you plan for the future, start to leverage your voice more in medical spaces; you know your body.
Understand your body as your body, and you deserve to advocate for what it needs.
When black women win victories, it boosts virtually every segment of society.

– Angela Davis.
When approaching pregnancy and birthing, these questions and structures allow open dialogue and a collaborative approach between the patient and physician. In addition, during the summer of 2022, HUED will be launching its E-learning pilot course centering on cultural competency. This program will equip care seekers and providers with the information needed to understand how these health detriments impact us individually and as a community.
Addressing the growing concern in Black Maternal Mortality is not only an individual but a systematic issue. Finding a provider that understands this health detriment can help open a dialogue about pregnancy and birthing.
Stay connected to us on Instagram @HUEDCO
Save the date for April 15, 2022, at 12:00 pm EST for our Instagram Live interview with two Doulas who will be addressing the Black Maternal Mortality issue within our system. Bring your questions and pen and paper to learn how holistic approaches and advocacy can help Black Women birthers.
Site content is provided for informational purposes only and is not intended to be a substitute for professional medical advice, diagnosis, or treatment.