The Doctor That Listens
Patient Experience Week
By Cheyenne Tyler Jacobs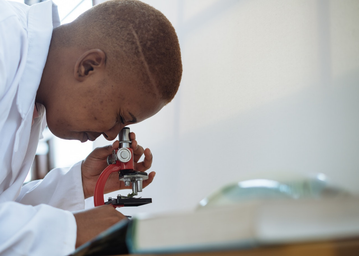 The last week of April is Patient Experience Week, celebrated with patients showing appreciation for their healthcare providers. So often looks like thank you notes or encouraging patients to leave reviews about healthcare providers. As we celebrate and thank our doctors this week, it is essential to shed light on how to increase the rate of positive patient and provider relationships.
Family Medicine for America's Health (FMAHealth) conducted a campaign and found that 89% of Americans felt it was essential to have a physician who knows their background and family history. However, many adults within Black and Latinx communities are more likely to lack the health coverage for a primary doctor compared to their white counterparts.
Studies also show that less than 5% of doctors are Black, and less than that 9% are Hispanic and Latino. Patients with a provider within the same race and ethnic demographic are more likely to rate a better overall experience.
When sitting with these numbers, it is clear that Black and Latinx communities are most likely not seeing a doctor due to a lack of insurance and finances. The ones with access to medical treatment are likely being seen by white male doctors. When looking at the history of Black and Latinx populations as patients tend not to value our voices and do not give us the proper care we need.
There is also a continuous lack of information given to patients regarding their health, so the language of how to ask questions and adequately advocate is often limited. It is vital to continue pushing for diversity within the medical field and educate providers on the populations often disregarded in the room. However, it is equally and often more critical to equip patients with the proper tools to find, question, and form dialogue with their providers.
Many times that looks like being able to see conditions on people who look like you, which is why Vaseline and HUED created See My Skin. This database powered by a team of dermatologists shows images of what certain skin conditions look like on melanated skin. Databases like this are essential because, let's say, someone believes they are struggling with eczema but has never seen what that looks like on melanated skin.
If we can see it, we can start to advocate.
Other ways we can all step into this call to action to create healthier and more collaborative relationships with our healthcare providers:
If you need a healthcare provider, visit HUED, look through our directory, and find a doctor that aligns with you.
Speak with your family about any medical conditions that are in the family. The conversation can give you a better sense of what conditions you may be monitoring.
Look for insurance providers that work with you! For example, Medicare is a government insurance program that offers affordable plans for those who require financial assistance.
Keep a journal of any health concerns you face with correlating dates and times so you do not forget when visiting your primary doctor.
If you have a positive relationship with your doctor, leave them a review! Yes, supporting Black and Latinx businesses is also in the medical field.
Let's go over that last point one more time "leave a review" the best compliment is referrals and word of mouth. If you have a positive relationship with your doctor, let them know that and share it on their website or reviews online. Eliminating the disparities in our care also looks like uplifting those doing the work daily.
HUED is committed to eliminating health disparities and improving overall patient outcomes for Black, Latinx, and Indigenous people. How do we do that? By designing equity-based education, enabling access to culturally sensitive healthcare providers, and empowering patients to make data-informed decisions about their healthcare. We offer a directory that connects Black, Latinx, and Indigenous patients with culturally humble medical providers.
Stay connected with us on Instagram @HUEDCO, and do not forget to subscribe to our newsletter! We would not want you to miss any new research or blogs.
Site content is provided for informational purposes only and is not intended to be a substitute for professional medical advice, diagnosis, or treatment.