The Quality Skincare You Deserve
By Brooke A Jackson, MD, FAAD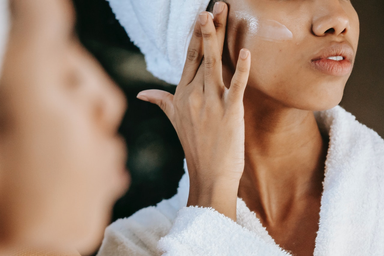 Skin is our largest organ. It plays a vital role in our overall health by functioning as a protective barrier between our bodies and harmful elements in the outside world, such as bacteria, viruses, yeast, parasites, pollution, and ultraviolet (UV) light damage. Any skin problem, whether a rash, growth, or disease process, affects your skin's ability to function correctly and negatively impacts overall health, economic viability, social life, and self-esteem. It is important to remember that having healthy skin is a right, not a privilege.
The population of the United States is becoming increasingly diverse; however, diversity in the healthcare workforce does not mirror this demographic shift. The lack of diversity in our healthcare workforce is problematic at many levels. Insights have shown that having a doctor who looks like you can result in better communication, improved access and compliance with treatment, and ultimately a better outcome. While that isn't always the option or necessary, it's equally important that physicians understand the cultural differences needs of patients. When developing treatments to address the unique concerns of patients with skin of color, it's also essential to have a diverse group of researchers that represent the audience. Lastly, clinical trials must include patients with skin of color to help provide invaluable information for the development of future treatments.
The skin of color and textured hair has unique characteristics that require the cultural competency of healthcare practitioner in skin and hair care practices for successful outcomes. Yet, according to a 2012 report, 47 % of dermatologists felt that their medical training didn't adequately prepare them to treat melanin-rich skin, and a 2008 study found that only 12.2% of dermatology training programs had a rotation in which residents gained specific experience in treating patients with skin of color.
While there are several efforts to address the gaps of representation for skin of color, like Vaseline's See My Skin, there is still work. For example, within the US, 12% of the population is African American, while only 3% of the board-certified dermatologists in the US are African American. In addition, for the Hispanic community, only 4.2% of dermatologists are of Hispanic origin compared with 16.3% in the general US population.
Having more Black and Hispanic Dermatologists is crucial; however, understanding specific cultural needs should be a must for all dermatologists and healthcare physicians. This begins with a commitment to recruit and retain minority academic faculty, confronting institutional racism, and providing leadership opportunities throughout the medical, educational system. While there is still work to be done, the ASDS (American Society of Dermatologic Surgery) has established a DEI workgroup and Rise Up Mentorship program to match current dermatology residents with practicing mentors who look like them.
This lack of diversity impacts every level of training, from having teachers in medical school that represent a diverse group of people – this includes advisors and mentors, who guide and supports the Dermatology residency application process and career trajectory. In addition, fewer dermatologists in positions of influence in the exam room, the lab, and the boardroom negatively impact the development and implementation of products and treatments to serve people of color.
While we know there is a lot of work to help close the gap in skin equity, how can you, as a patient, ensure you get the quality care you deserve?
Resources offered by Vaseline and HUED's partnership allow people of color to connect with physicians trained to provide you with optimal care. Please visit the physician finder tool to search for a dermatologist near you. If you are in the North Carolina area, you can also book an appointment at my practice, Skin Wellness Dermatology. Once you have chosen a Dermatologist, consider using Vaseline's guide to prepare you for your dermatologist visit.
References
Nijhawan, R., Jacob, S., & Woolery-Lloyd, H. (2008). Skin of color education in dermatology residency programs: Does residency training reflect the changing demographics of the United States? Journal of the American Academy of Dermatology, 59, 615–618. DOI
Shen MJ et al. J Racial Ethn Health Disparities 2018 Feb;5(1):117-140.
Kirch DG, Nivet M. Increasing diversity and inclusion in medical school to improve the health of all. J Healthc Manag. 2013;58(5):311-313.

Bodenheimer T, Sinsky C. From triple to quadruple aim: care of the patient requires consideration of the provider. Ann Fam Med. 2014;12(6):573-576.