The Uniqueness of Melanin-Rich Skin and How This Impacts Creating a Personalized Skin Care Routine for Black and Brown Skin
Black History Month Skincare Edition
By Dr. Caroline Robinson, MD, FAAD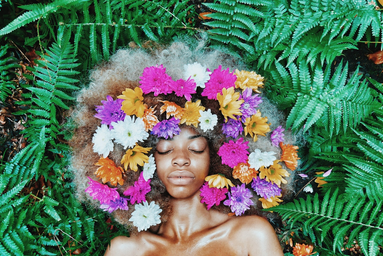 I believe that the uniqueness of melanin-rich skin lies in the variety of hues, traditions, and stories that it carries. The differences that make us unique are something that I celebrate and educate my patients about as a dermatologist and my daughters about as a mother. Cultural influences in how we care for our skin play a huge role in the routines that we have today, and that education often starts at home.
It is so important to understand our skin's moisture barrier so that we can choose the right skincare to support & strengthen it. The stratum corneum (the top layer of our skin) is constantly balancing moisture & hydration, defense & protection, and this evolves as we age. Our job is to support it. Our understanding of ethnic and racial differences in the skin barrier that impact the skin is limited and ethnic and racial categories are often not well defined in studies but there are unique considerations in Black skin.
Dry skin & itch in Melanin-rich Skin| Dry skin and itch appear to impact Black patients more and there is a greater incidence and burden of disease with conditions like eczema (specifically Atopic Dermatitis). Generalized dry skin appears to be more common amongst Black patients in studies, and this is important to address because of the cultural stigma it has within our community. Dry skin can be more visible on the background of melanin-rich skin creating an appearance often referred to as 'ashy skin' and this is a common concern. Addressing dry skin and itch starts with gentle cleansing. Using a no-soap, milky, or lotion cleanser is one way to ensure that the cleansing process is as gentle as possible. How you cleanse, however, is also important. Avoiding use of harsh cleansing accessories like loofahs or scrubs and avoiding hot, lengthy showers can be helpful if you are dealing with dry and itchy skin. An important step after cleansing is to leave the skin damp so that your moisturizer can take advantage of the water left on the skin for a hydration boost.
Ceramides in Melanin-rich skin| Ceramides play an important role in skin hydration and skin barrier function. Studies have consistently shown that ceramide levels in Black skin are lower than that of other groups. Lower ceramide levels are often associated with decreased skin hydration and increased dryness. Consistent moisturization and selection of the right moisturizer can be impactful for these changes. Moisturizers come in various types (emollients, humectants, occlusives, etc) and various consistencies (creams, lotions, butter, etc) see Moisturizers for Various Skin Types for an explanation of types of moisturizers. For those with dry skin, I recommend applying an emollient moisturizer such as Vaseline Intensive Care Advanced Repair Lotion to damp skin. This lotion is unscented and features lipids, humectant glycerin, as well as microdroplets of Vaseline to heal extra dry skin in as little as 5 days. Vaseline Intensive Care Eczema Calming Cream is a great option for those prone to dryness, itch, and eczema because it also has 1% colloidal oatmeal, an ingredient that has consistently been shown to help reduce itch and irritation on the skin. Adding a layer of Vaseline Original Healing Jelly to areas that are very more vulnerable to dryness such as the elbows, knees, and ankles is a nice bonus because the occlusive nature of the jelly will help to prevent the skin form losing hydration in these areas.
Understanding and celebrating the uniqueness of our skin and knowing how to care for it can be incredibly empowering especially when that knowledge is shared through generations. When selecting skin care for you skin, remember to consider the gentle cleansing and moisturizing tips above to help support your skin's moisture barrier.
Reference : PMID: 34491028