Yes You Are Brown and You Still Need Sunscreen
Skin Cancer Awareness Month
By Cheyenne Tyler Jacobs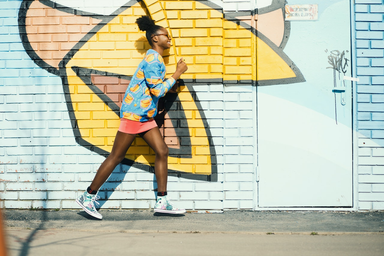 If we were to list the best way to take a selfie, I am sure one of the top requests would be in the natural sun. Unfortunately, the natural lighting combined with the sun's glow gives melanated skin tones, making the Instagram feed a permanent post.
The sun is nature's best highlight, but it can also be our skin's biggest enemy if we do not take the necessary steps to provide protection. Unfortunately, despite what we were told as melanated people, natural skin can only protect us for so long. According to the Skin Cancer Foundation, 90% of skin aging is due to sun exposure. So one protector is that sunscreen needs to be used in the summer and throughout the year.
Sunscreen is often marketed in the summer because more Americans are prone to spend more time outdoors. However, a survey found that close to 60% of Americans do not mark summer by date but by the temperature rise. Regardless of temperature, sunscreen protects from the sun's rays year-round. According to Yale Scientific, sunscreen works to block and absorb UV radiation by using both physical and chemical components.
As melanated people, we need to actively prevent sunburn and be aware of what sunburn looks like on our skin—your risk of melanoma doubles after suffering from 5 or more sunburns. Research recommends sunscreen with SPF 30 and above every 90 minutes while outside. Sunscreen with hats, sunglasses, and UV protective clothing will be the most effective.
Recently, more sunscreen products have been created to help melanated skin. As a child, you may have run into an issue if the sunscreen does not properly soak into your skin and potentially turn skin purple or leave a white residue. However, looking for a lightweight sunscreen that possibly doubles as a moisturizer will help not get that sunscreen overcast.
Now is the time to start adding sunscreen or other UV ray blockers into your daily skincare and morning routine. Below are tips that can help:
Look for skin products that have SPF already, including many face primers and moisturizers that double as SPF protection.
Keep sunscreen readily available if spending a day outside; a small tube in your bag or car can help throughout the day.
Sunscreen alone cannot do it all. Be sure to wear sunglasses, hats, and clothing to protect from sun rays.
After getting a sunburn, take measures to heal that skin area.
Be sure to talk to a dermatologist to understand your skin and the needed SPF for your body.
Melanated skin deserves protection, and we no longer have to wonder about what sunburn looks like and feels like on our skin. Thanks to Vaseline x HUEDs database "See My Skin," photos of different skin conditions such as cancer and eczema are available for review. See My Skin is a dermatologist-backed platform created, so those with melanated skin no longer have to wonder about their skin conditions.
Keeping your skin covered, sunscreen, hats, shades, and platforms like See My Skin are ways to ensure lasting healthy skin. Also, find a dermatologist who knows your skin needs under the directory at HUED. Summer is here, and so is sun safety.
Site content is provided for informational purposes only and is not intended to be a substitute for professional medical advice, diagnosis, or treatment.