5 Stress Reliever Foods You Need In Your Kitchen
By Cheyenne Tyler Jacobs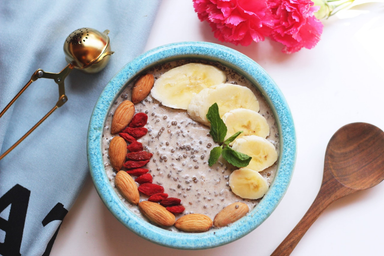 It goes without saying that life can get hectic, so we compiled a list of foods to help with stress relief. Yes, stress relief, if we remember in our previous article #HustleCulture Booked & Busy But What about Rest? We touched on the rising risk of stroke in young adults due to sleep deprivation and stress.
Making sure the foods you keep in your pantry provide you with the necessary nutrients is essential to keeping your stress levels low. Below is a list of 5 food items you should incorporate into your meals.
Banana: Bananas are a good source of dopamine, and one serving can give you 23% of the daily potassium you need. They also contain over 40% of the recommended daily dose of vitamin B6, making them a vitamin-friendly and stress-reducing gold mind!
Yogurt: Most know that yogurt has natural probiotics that are good for the digestive system but did you know that it also helps with stress relief? The process of fermentation milk allows "good" bacteria to rise in yogurt. Research is finding much stress causing hormones to rest in the gut, so eating foods that balance gut health are needed in our book!
Oatmeal: Oatmeal, one of the go-to breakfast items, is also on the list for stress-relieving foods. The high magnesium content helps satisfy hunger which allows high levels of serotoninto flow through the body.
Dark Chocolate: We were happy to see chocolate on stress-relieving foods. Yes, dark chocolate is an item you do not have to take out of your kitchen. Instead, tell them HUED said to keep it because it has been proven a mood booster. One studyobserved high anxiety patients and found that 40g of daily serving over two weeks had a noticeable impact on their mood and gut health.
Tea: It is tea time! Tea is a beverage that is a proven stress reliever. Over six weeks, such as black and green teas have been proven to help reduce cardiovascular issues. Depression and anxiety are linked to cardiovascular problems positively impacted by team consumption.
Also, take this moment to contact your primary care provider (or find one) to set up an appointment to discuss more stress-relieving foods. Finally, look at the HUED directory that connects Black, Latinx, and Indigenous patients with culturally humble medical providers.
Site content is provided for informational purposes only and is not intended to be a substitute for professional medical advice, diagnosis, or treatment.