How to Hike and stay Hydrated
By Cheyenne Tyler Jacobs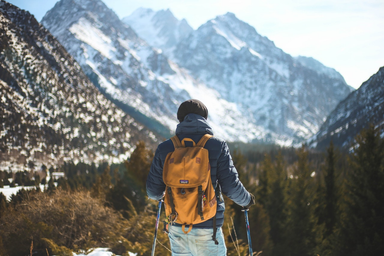 Hiking is defined as the act of taking long walks specifically in nature. According to the Outdoor Industry Association hiking has grown in popularity and is now one of the top 4 forms of physical outdoor physical activity. It is an outdoor activity that can be done year-round with the right gear and preparation. We wanted to provide some healthy practices to ensure your safety while you tap into your love of hiking and of nature.
The Academy of Nutrition and Dietetics outlined a couple of tips that we prepared with our recommendations for hiking and camping:
Stay Hydrated: It is important to say hydrated! The recommended ounces of water go up once you are physically active. Be sure to intake more water than you may normally drink because you are losing more water than you think.
Pack Food: When it comes to packing food the academy of nutrition and dietetics recommends the following foods:
Nuts
Apples
Granola bars
Trail mix
Dried jerky
Back Pain: To avoid potential back injury be sure to pack only what you need and avoid overpacking which can strain your back on a hike.
Pack medicines: It is essential to have all necessary medications and prescriptions prior to going on a hike and it is beneficial to pack medication for possible aches and pains that can develop throughout the hike.
Proper Coverage: Make sure you have the proper clothing and sunblock to protect yourself from the sun even if you are hiking in the winter.
Rest: Hiking is both a physical and mental sport that calls on both your body and mind so having resting periods in between hikes can help our bodies heal.
We encourage you to get your body moving and to be safe while doing it!
Site content is provided for informational purposes only and is not intended to be a substitute for professional medical advice, diagnosis, or treatment.