Why Black Americans Are Distrusting of the COVID-19 Vaccine
By Jada Vanderpool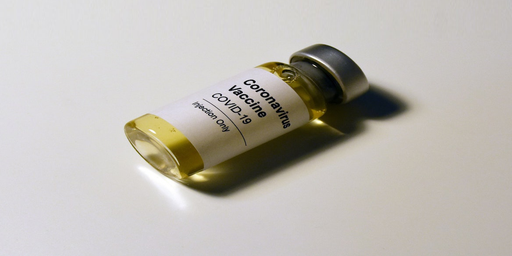 COVID-19 vaccines Pfizer-BioNTech and Moderna are rolling out across the country, and more than 128,000 of the nation's most at-risk individuals have taken it.
While some view the vaccine as a sign of hope and an end to the pandemic, the Black community – one of the communities most affected by the pandemic, with death rates three times that of their white counterparts – are among some of the most hesitant to take the drug.
A Kaiser study found that 35% of Black Americans have declared they'd probably or definitely not get the COVID-19 vaccine. It also noted that both Black Americans and LatinX people cited a key reason for hesitancy taking the vaccine is because of mistrust in the federal government, and the history of racism and medical research.
One of the most widely recognized cases of medical research misconduct on Black people is the Tuskegee experiment. In 1932, the Public Health Services and Tuskegee Institute led a 40-year-long scientific experiment on syphilis with 600 Black men. Participants of the study were told they were being treated for bad blood – yet they weren't being treaded for anything. Instead, they were being observed for untreated syphilis in Black populations.
Medical misconduct on Black people dates as far back as slavery, when Black women were left with little say in their reproductive rights, and extends beyond the Tuskegee Experiment.
In the 1990s, a prestigious university recruited African American boys for a study that hypothesized a genetic etiology of aggressive behavior. The university offed a monetize incentive to parents to get their children involved.
The study included withdrawal from all medications ingesting a mono-amine low protein diet, an overnight stay (without parental supervision), withholding of water, hourly blood withdrawals, and the administration of fenfluramine, a drug known to increase serotonin levels and suspected to be associated with aggressive behaviors.
Racial bias in the medical industry has also played a crucial role in distrust for the Black community. Studies show that in the U.S. largely, health care providers appeared to have more of a positive attitude towards white patients than patients of color.
The study, which including actor caregivers and physicians, found that white patients with illnesses were treated with greater compassion than their Black counterparts. Physicians were more likely to stand by the bedside of white patients as opposed to black patients.
Black patients are often left feeling neglected and underserved, which leads to negative client interactions.
Many Black health leaders are calling out the role systemic racism plays in health care for Black Americans, and are demanding change.
"We need to take a systemic look at the barriers," said Dr. Patricia Harris, the first Black woman to serve as president of the American Medical Association in an op-ed for the organization. "We need to address implicit bias—in medical school admissions, promotion and tenure committees, hiring, and leadership opportunities."
Harris has also led efforts to support accessible rapid free testing.
Other leaders in the medical field are looking to gain the Black community's trust. Kezzmekia Corbett, a Black immunologist is one of the lead developers of the COVID-19 vaccine, and she fully understands the history of injustice in the medical industry against Black people.
And while she's made it her mission to ensure the community knows the vaccine is safe, she understands that this isn't an overnight process.
"What I say to people, firstly, is that I empathize and then, secondly, is that I'm going to do my part in laying those bricks," said Corbett in a CNN interview. "And I think that if everyone on our side, as physicians and scientists, went about it that way, then the trust would start to be rebuilt."