Because of HER: Advocacy in the Medical Field
International Women's Day 2022
By Cheyenne Tyler Jacobs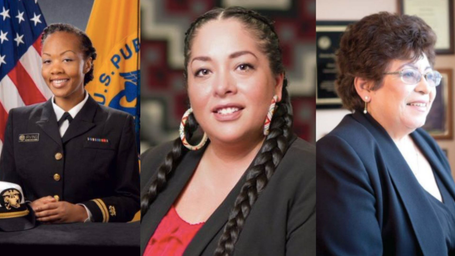 Shalon Irving PhD, MPH, MS, CHE
Dr. Shalon Irving was a researcher and advocate for health equity and women's health. She was an Epidemiologist with the Centers for Disease Control and Prevention (CDC) and Lieutenant Commander in the US Public Health Service Commissioned Corps. She started facing pain and complications during and after her birth but her concerns were not taken seriously. Three weeks after giving birth, Dr. Irving suffered complications associated with high blood pressure and died in February 2017 at the young age of 36.
The Dr. Shalon's Maternal Action Project was created to honor her memory and continue her mission to increase awareness of the Black maternal health crisis and develop evidence-based strategies that improve health outcomes for Black birthing people and families. BeliverHer is an anonymous peer support app that is a part of the Action Project to increase awareness in Black maternal health. The life and legacy of Dr. Shalon Irving continues to live in both her research, projects, and life story.
Abigail Echo-Hawk
Abigail Echo-Hawk is a member of the Pawnee Nation of Oklahoma. Currently, the Chief Research Officer of the Seattle Indian Health Board and Director of Urban Indian Health Institute. Abigail's work focuses on "decolonizing data" and making sure Native Women are "being seen" in healthcare.
Abigail focuses on policy advocacy in maternal and child health, domestic violence, and sexual assault. She was recognized in the 2015 class of the National Center for American Indian Enterprise Development (NCAIED) Native American 40 Under 40.
Dr. Elena Ríos
Dr. Elena Ríos, MD, MSPH, MACP is the President & CEO of the National Hispanic Medical Association, which represents over 50,000 Hispanic physicians in the United States. She is also the President of the National Hispanic Health Foundation.
Dr. Ríos, advocates strongly for the mentoring and support of Latinas entering the medical field. In her advocacy, she centers the experience of first-generation Hispanic/Latinx students navigating education. Dr. Ríos works to fill the gap between supportive networks and Hispanic physicians.